For the very difficult task of replacing Ian MOSLEY, Sylvain had to try to discover a very special drummer who would have the talent, the experience and the availability needed to be involved. Only after having auditioned many drummers, Sylvain found Stephane BECHET. Stephane is an extremely talented drummer. He studied drums and got some degrees at various drums schools. He previously played in the Hard-Prog band: 'Syrinx'. Stephane has a solid experience in playing live gigs on big (and not so big) stages. When Sylvain approached him to play for the IRIS live team he listened to "Crossing The Desert" and was very interested by the idea. The first audition went exceptionally well and naturally Stephane is now the IRIS live band's drummer.
BASS: Christian BETAILLE
Here, again, Sylvain auditioned many bass players before he met Christian. He his one of the rare players who can play bass with a pick in south of France (for this somehow seems to be unfashionable there), which is essential to play the bass part of the IRIS album: 'Crossing The Desert'. In addition, Christian used to play with Stephane BECHET so they have a solid rhythmic complicity together. He is also an excellent singer. Christian played in many bands and project including the Grenoble Rock Opera: 'L'Alchimie des Villes' (1989). He's got a degree in double-bass at the conservatoire of Grenoble. Thanks to the variety of his musical ventures, Christian is a most experimented player on stage as well as in a studio.
GUITAR: JEAN-MICHEL BERNARD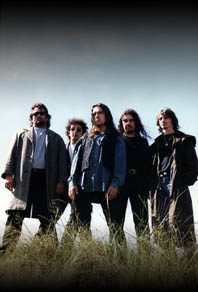 Jean-Michel is an excellent rock guitarist and an old friend since he and Sylvain were playing at the same gigs with their own teenagers bands. In these times they were often meeting with each other, exchanging some guitar technique or working to learn their favourite guitarist's lead parts. They learned to play the guitar in parallel, and when Jean-Michel heard that Sylvain was back from England, looking for a second guitarist he immediately asked to have a go. Sylvain had the pleasure to discover that "Jean-Mi" nearly knew already the album by heart. "It's funny the way we always were in different bands playing at the same gigs when we were teenagers and that we are going to play on the same stage together with IRIS now".